Elia Beach Mykonos beaches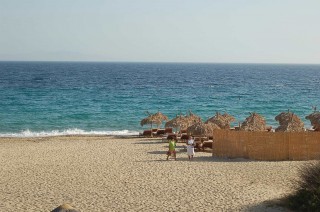 Elia Beach Mykonos Island Greece
One of the prettiest beaches on Mykonos island ELIA BEACH easily accessible by bus from Mykonos town and with a regular boat service from Platys Gialos beach. Big luxury spa hotels but also small family hotels and bungalows provide beach side refreshment and accommodation. Very Good restaurants, (like Elia restaurant of Nikos Stavrakopoulos and private rooms studios and apartments for rent are all available for tourists at this Beach.
Elia beach is the largest of the south chain of Mykonos beaches with fine sand, easy access and a nice crowd. At Elia beach in Mykonos you will come across many of those who feature in the society pages of magazines and newspapers, as well as those who want to be like them. It is characterized as "gay-friendly beach" by the connoisseurs of Mykonos In designated sections nude bathing is allowed ...yachts are also allowed to anchor here. You will find 5 star hotels some studios and rooms to rent , umbrellas, sun beds and a stand for water sports (ski, Jet Ski, etc.).
FIND MYKONOS HOTELS AT ELIA BEACH or BOOK ONLINE
Royal Myconian hotels Myconian imperial MYKONOS ELIA ROOMS STUDIOS APARTMENTS Elia beach Mykonos beach on the Google map of Mykonos.
MykonosTour Page ID: 24