Grand Beach Hotel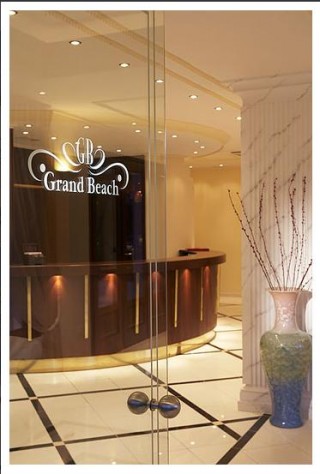 Bookings: Online Booking »
Location: Mykonos hotels on the beach Megali Ammos
Class: Hotel


Telephone: +302289079705



GRAND BEACH HOTEL MYKONOS HOTELS

Mykonos Grand Beach hotel at Megali Ammos beach next to Mykonos Town. Location: Megali Ammos Class: Hotel Telephone: +30-22890-79705 Mykonos Grand beach hotels is  a brand new hotel in the outskirts of Mykonos town.  An elegand residence in an ideal location.

Enjoy beach life at Grand beach hotel  just a footstep away from the cosmopolitan town of Mykonos . Mykonos Grand Beach hotel at Megali Ammos beach  is designed in style. Built with passion and desire in the year of 2006.

Grand beach hotel is located just 400m from Mykonos town, on the beach of Megali Ammos ,with the golden sand and the clear blue water.

GRAND BEACH HOTEL  FACILITIES:
Outdoor Seawater Swimming Pool
Children"s Pool Outdoor Jacuzzi
Pool Area with Sunbeds
Poolside Bar
Fully equiped Gym
Breakfast Room with Breakfast buffet
Internet Corner Elevator
Outdoor Sitting Area with a memorable view of the sea, Mykonos town and the windmills.
MykonosTour Hotel ID: 2194