Rhenia hotel bungalows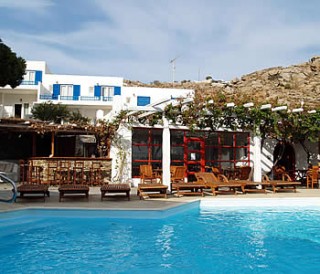 Bookings: Online Booking »
Location: Mykonos hotels at Tourlos Beach
Class: Hotel


Telephone: +302289022300



RHENIA HOTEL BUNGALOWS MYKONOS HOTELS MYKONOS ISLAND GREECE

Rhenia Bungalows
Tourlos Bay, P.O. Box 10
Mykonos 84600
Greece

Tel: +30 22890 22300
Fax: +30 22890 23152

We invite you to experience the beauty and serenity that the remarkable Rhenia atmosphere prompts to its visitors, and enjoy an unforgettable vacation at Rhenia.

The Rhenia Bungalows Hotel is a charming, family run property located in a hillside setting overlooking Tourlos Bay, in the northwestern part of Mykonos and just 200 metres from the new Mykonos harbour and marina. The hotel enjoys a lovely panoramic position and awards guests with breathtaking views over Mykonos town and the deep blue Aegean sea.

Built in harmony with the surrounding environment and according to the Cycladic architectural style, the property offers traditional Greek hospitality combined with all the most up-to-date facilities.

Visitors will enjoy a wide range of on-site conveniences, as well as a tempting short walking distance to Agios Stefanos beach, one of the most beautiful and renown beaches of the island. A warm and friendly atmosphere will make your stay a very pleasant one.

Cot available upon request
Direct dial phone
Hairdryer in room
Individually controlled air conditioning
Mini fridge
Room terrace
Rooms with sea view
Rooms with view available upon request
Satellite TV

Accommodation

Rhenia provides two types of accommodation enlisted below.
All our rooms provide equal facilities while they are designed to offer our guests privacy and peacefulness.

Types of Rooms

Bungalows are independent buildings spread out in Rhenia physical scenery that emphasize on guest's privacy. Their small courts are there for your enjoyment of the sublime view.
Main Building Rooms: Sea View with Balcony and Sea View with Courtyard
Rhenia main building rooms are found on the top levels of the Hotel, offering our guests an enjoyable walk through our gardens.
The rooms here have their own courtyard or balcony providing our visitors with greater convenience and an even more astonishing view of the sea and Mykonos Town.
Room Amenities
Rhenia rooms are equipped with bath/shower, hair dryer, direct dial phone unit, mini bar, TV, and air conditioning.
For this Hotel at Mykonos . If you are interesting to change or add more information prices or pictures for this hotel please contact us.
MykonosTour Hotel ID: 115