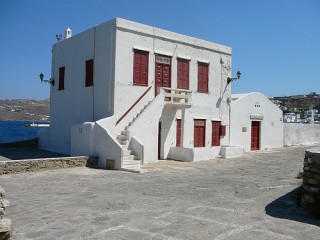 Mykonian Folklore museum of Mykonos Island Greece
The beneficial to the public institution "Mykonian Folklore Collection" was founded by Professor Vasilios Kyriazopoulos on May 1958. The museum is situated at Castro, in a 18th century building. In there, are exposed museum articles sorted by subject.
Keys and locks collections, handwoven tapestries, painted plates, old weights and measures, traditional
Cycladic sculptures and lighting devices ranging from the ancient oil to the kerosene lamp.
Obsedian tools and weapons representing the interior of a 19th century middle class drawing room.
A 19th century bedroom.
A 19th century kitchen.
Around the "Mermelechas well"- a known pirate there are large and small traditional Aegean ship models, cannons and pictures of old Mykonian sailing and steamships.

The Museum is open from April till October from 17:30-20:30 every day and from 18:30-2:30 on Sundays. Telephone contact on (0289-22591/22748) No admission charge.
The Agricultural Museum is situated at Ano Mili (Up Windmills) in the town of Mykonos. It is a branch of the Folklore Museum and hosts installations for the processing agricultural products on the island before industrialization. The large "Bonis" -after the captain- windmill, which dates since 16th century is a listed building, a traditional threshing-floor and a village style oven, the wine-press, a water wheel, a stone water tank, dovecote, pigsty, the miller"s house and two little twin churches. There is also a collection of old agricultural tools and machinery. The museum is open from June till 30th September, between 16:00-20:00 daily. Telephone : (+30) 22890 22591-22748. No admission charge.
Mykonian Folklore museum of Mykonos Island Greece
MykonosTour Page ID: 44