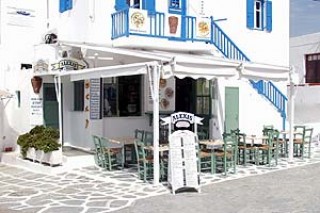 Alexis restaurant - fast food - snack bars - Mykonos
Choose from a range of classic favorites such as hamburgers, hot dogs and toasted sandwiches adding to them your own special combination. If you want to experience something new, try the Greek"s all time favorite fast food, the Souvlaki. At "Alexis" this taste treat comes with a savory range of pita-filled combinations to wet the appetite. Specially seasoned pork gyros, kebab or chicken and vegetarian souvlakis are all available, traditionally enjoyed with a homemade garnish of "tzatziki" together with tomato and onion. New to the menu and an island fast-food first, chicken wings with a selection of 5 delicious sauces are also available.

Location: In the town of Mykonos, "Alexis" has two locations to serve you: Directly on the harbour at the top of the taxi square and near the town"s south bus station to the beaches.
Realizing the growing popularity of fast food, Alex opened his business in 1971 as the first hamburger, hot dog and sandwich snack bar in Mykonos. His reputation for friendly quick service together with the development of the "Big Alex" burger were just two of the elements that helped build "Alexis" into what it is today. From a little snack bar on the waterfront to a full taverna-restaurant that offers home delivery, over the years the name "Alexis" has become a household word throughout the island.Catering for those on the go, his two snack bars within the town of Mykonos while maintaining their original menus, expanded over the years to include other snack favorite two of which are: the famous "souvlaki" with all the trimmings and, an island first, "chicken wings" with a choice of sauces. For those who prefer to sit down and enjoy a good full meal Alex opened a taverna style restaurant which quickly became a huge success.

Today, as in the beginning, Alex continues to provide those key elements that made his businesses popular. Fast friendly service, good food and reasonable prices, a combination that makes "Alexis" a name to remember when thinking of food during your stay in Mykonos
A great place to enjoy the company of family and friends, "Alexis" restaurant provides a casual environment specializing in meat both grilled and barbecued plus a wide range of home-cooked traditional and international dishes prepared by his chef. A long list of starters, salads and desserts are available together with a good selection of wine including great house wine. Open year-round the restaurant has an inner area and two outer terraces, one of which overlooks the town of Mykonos with a view of the sunsets. Ample parking is provided as well as a free home delivery service.

Location: A short distance from town on the new peripheral highway, you will find Alexis a half kilometer north from the Ano Mera road intersection. If leaving town on the Ano Mera road, turn left just after the Shell gas station.
This is a free listing for this Bar at Mykonos .If you are interesting to change or add more information or pictures for this listing please contact us with the email form below and we will be glad to assist you.
Mykonos Tour is always in an update progress so people will find all the details that they are looking for. Bar owners are always welcome to add or update their information at Mykonos Tour Network by filling the form from the contact us section . Form »
MykonosTour Page ID: 265