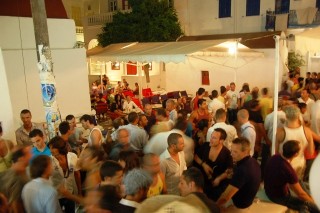 Pierros Mykonos Gay Clubs bars
In Mykonos Town at Agias Kiriakis Sq.
tel. 003022890 22177
The majority or all guests are gay
Mixed ages Terrace or garden . The best Gay Party On The Island !
Imagine the early 1970s . The freedom and love of all things wild and new sweep across the earth with unpredicted vitality. Western Europe is seen as the leader in movement, mainly of youths , yet even these borders make the truly unique feel restless . Mykonos in the late 1969's was quiet and sparsely populated island but an inexplicably intoxicating energy dating back from the ancient times of Delos.
One of the first travelers to see this island as a gem in the rough, would be an Italian American painter by the name of Pierro Aversa . He was one of the most famous figures in European celebrity circles and immediately fell in love with Mykonos . Soon after, Pierro and Mykonian local, Adreas Koutsoukos , decided to open the chic cocktail bar , Pierros. Pierro and Andreas entourage soon followed like a shower of stars , fashion designers, actors, and the rest of the truly glamorous coming along for the ride .
Baptized as Pierros bar, it first became known as an elegant cocktail lounge , where the elite met in the early evening and stayed into the night. 5 years later, yachts from all over the world , lined up in the port and from there those high society made their way to the doors of Pierros .
Since 1974 , Adreas Koutsoukos has continued in the steps of his friend, and has opened for his clientele the neighboring bar , Manto , for the ultimate clubbing experience .For the past three decades , wild parties great music, drag shows, and a joyous atmosphere are what made talented artist, designers, actors and models from Greece and abroad put Pierros on the world map. All of the legendary international drag Queens , including Carlos, have preformed the most risquι and controversial acts there . For 35 years, Andreas Koutsoukos has pushed for equal gay rights in Greece. Subsequently, Mykonos became one of the famous gay resorts in the world.
The last summer that Pierros CLUB was open was the summer of 2005. Since then every body moved upstairs at PIERROS café but the party is still the same.
This is a free listing for this Bar at Mykonos .If you are interesting to change or add more information or pictures for this gaybar please contact us with the email form below and we will be glad to assist you.
Mykonos Tour is always in an update progress so people will find all the details that they are looking for. Bar owners are always welcome to add or update their informations at Mykonos Tour Network by filling the form from the contact us section . Form »
MykonosTour Page ID: 297