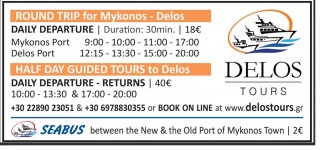 Seabus Service between the New Port (Tourlos) and the Old Port (Chora) of Mykonos Town.
Our company offers fast and economical transfer from the New port (Tourlos) to the Old port (Chora) and vice versa.
There is wheelchair access to the Seabus.
Of course, luggage can be catered for.
Get on the Seabus and travel in style and comfort, enjoy the unique view of picturesque Mykonos during the short trip, arriving in the center of the town without undue delay and unnecessary waiting.
One Way ticket price: 2€ per person
Duration: 8 minutes short trip
TIMETABLE
http://www.delostours.gr/en/seabus-service-between-the-new-and-old-port-of-mykonos-town/
Tours and excursions to Delos
For centuries now, the local Mykonian caiques have serviced the route from Mykonos to Delos and from Delos to Mykonos, as there was never a connection between Delos and Piraeus. Since the end of the 19th century, when the systematic archaeological excavation started, the trips over to the island have become more frequent.
"We offer the best value and the lowest prices for guided tours and individual trips to Delos island"
Kind Regards from Mykonos,
Maria Chatziioannou
Manager
Services & Prices for tours from Mykonos to Delos
Delos Tours Company, is the market leader and offers visitors and locals alike the most relaxing and the quickest way of transportation available in Mykonos. We have the most suitable and the cheapest solution for any of our services you might be interested in. Moreover, we can provide guided tours by a licensed tourist guide in the selected language upon request.
Trips - Excursions - Charters
Pricing Policy
Guided Half-Day Tour to Delos
Special Offers - Discounts
Cancellation-Refund
Trips - Excursions - Charters
You can charter our vessels for VIP functions, weddings, parties, conventions, special events, short trips and excursions to the nearby islands,by the day or by the hour.
Provide a unique transportation experience for the guests to your wedding or event.
Get together with your friends or family for an onboard cocktail party during the picturesque sunset of Delos or off the coast of Mykonos.
If you are the more adventurous type, combine your event with fireworks thrown from onboard.
Travel to the nearby islands (Siros, Naxos, Paros etc.) for a one-day tour and enjoy the unique characteristics of the Aegean landscape and the Greek hospitality.
Visit the famous island of Tinos for a pilgrimage to the Virgin Mary.
We can provide a unique onboard experience tailored to your desires.
Delos Tours
Shipping & Travel
MykonosTour Page ID: 737