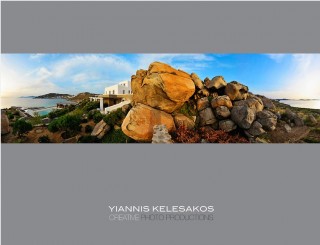 Mykonos Photographer Yiannis Kelesakos
Yiannis Kelesakos was born in Athens the summer of 1974. He started studying photography in 1993 and after winning a scholarship he attended a  course in the "Bellas Artes" in Bilbao, Spain where he was mostly influenced.
At the age of twenty-five years old he had already been collaborating with Kostas Coutayar in photoshootings for great magazines such as "Vogue", "Madame Figaro", "Marie Clare", "Elle", etc. Later on he continued his career shooting for life style brands as "Zolotas jewlerry", "Bang on the door" and "Puma". In 2002 his work was published in the "Greek Panorama" with a thirty-page travelogue titled "The Greek Orient Express" which was the beginning of a new promising future.
Due to the fact that his photos are followed by his printed personal view, the reader enjoys a journey through  his eyes. For that reason he was chosen by the best magazines and newspapers like "K" , "OIKO", "Passport" and "Voyages" of the "Kathimerini publications" in Greece, "Arts Magazine" in France , "Financial Times" in the United States of America,  "Independent" in UK, "Helsinki Times" in Finland, etc.
Furthermore he has also been collaborating with international agencies like "IML" and " Lehtikuva". Many of his photos have been published in more than 40 different international magazines.
His exhibition in Greece in 2007 called "Lie vs Reality" was the key point in his carrer and gave the opportunity to those who appreciate the art of photography to travel with him to the 13 different countries of the presented material. Thus he never stopped travelling and enriching his portfolio.
Kelesakos Yiannis
+306932421933
MykonosTour Page ID: 735