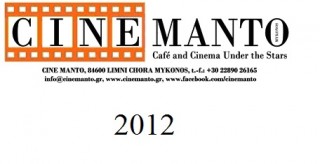 In the center of Mykonos Town,Chora, one canfind a unique and vast garden, Gardens of Meleto-poulos,drowned by palm trees, towering pines and unique species of cactus. Sheltered from the wind and always cool, is an unexpected picture of Mykonos.
Within these majestic gardens we operate the summer cinema CINE MANTO, offering a relaxed and dreamful vista under the bright stars of the Aegean sky.
At CINE MANTO Mykonians, visitors and travelers can enjoy the latest movie productions starting on June 1st up until late September. This summer we haveselected for you box-office productions for families and children to special tributes and late night screenings.
Apart from CINE MANTO, in the Gardens you will also find the coolest cafι on the island open from morning until late at night. The Gardens are open
all day long, offering the pleasure of greenery and of course free Wi-Fi available to all who want to relax or enjoy a social event (birthday, baptism, marriage) or even for business and informal meetings.
This year we are pleased to welcome to the Gardens, two theater shows for children from Mania Maratou, on July 5th and August 2nd.
On top, on July 27th you are all invited to watch live from London, the opening ceremony of the 2012 Olympics on the big screen of CINE MANTO!
The ticket is set to ?8 for adults and ?6 for our younger friends. We also offer a special discount card of 35% for 14 screenings, for those who
love cinema.
We expect you all at the Gardens of CINE MANTO Mykonos, a dreamful place for 120 days a year.
Andonis Theocharis Kioukas
MykonosTour Page ID: 726