Zorzis Hotel Mykonos Town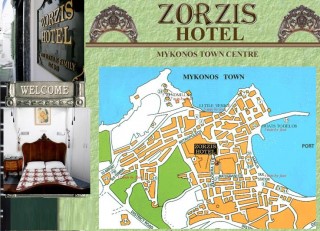 Bookings: Online Booking »
Location: Mykonos Hotels down Town
Class: Hotel


Telephone: +302289022167



ZORZIS HOTEL MYKONOS DOWN TOWN

BOOK NOW ONLINE ZORZIS HOTEL MYKONOS

Zorzis Hotel is a charming 16th century stone building situated in the heart of historic MYKONOS TOWN . It nestles on a peaceful street surrounded by pretty, cube-shaped buildings which are of the quintessentially Cycladic style.
The moment you step from our door you are captivated by the winding maze of ancient stone walkways, gleaming with whitewash and colourful cascades of flowers.
Traffic is forbidden, allowing the pedestrian to wander at will in this picturesque environment.
All the delights of Mykonos Town are at your fingertips. Wherever you go in your pursuit of pleasure you have the comfort and security of knowing that you are always just a few minutes walk from Zorzis Hotel.
The hotel is owned by the Varnalis family who have been islanders on Mykonos for hundreds of years. The Hotel was opened in 1970 by the father of the present owner, and is one of the most long-established lodging houses in Mykonos. We are listed in dozens of guide books the world over.
Many of the guests return year after year. Our friendly hospitality and attractive service will tempt you to be one of them.
Contact Information
Hotel Address: 30, Nik Kalogera Street, Mykonos, 84600, Greece.
 Our phone center operates daily and our phone numbers are : +302289022167 +30 22890 24168.
 Our fax number is : +302289024169.
If you are interesting to change or add more information prices or pictures for this hotel please contact us.
Altogether, 10 guestrooms are available here, at Zorzis Hotel. Needless to say, all of these guestrooms have been decorated finely and provide guests with necessary amenities. For family vacationers, the hotel offers spacious two-bedroom suite. Besides, rooms are also available here for romantic couples. So, be it your honeymoon or a family vacation, at Zorzis Hotel you will get a room as per your requirements.
A host of facilities at these guestrooms will serve you impeccably. Some of these amenities are like, private ensuite bathroom with power shower, air-conditioning, stereo television, radio, direct dial telephone, private safe deposit box, Casablanca ceiling fan, hair dryer and many more. What else! Come to Zorzis Hotel and make your Mykonos vacation a lifetime experience.
When it comes to facilities and services, the Hotel Zorzis in Mykonos doesn't lag behind too. The facilities like daily maid service, laundry service, porter service etc. are a big help for the boarders here. The hotel has also given proper accent on guests' security. Thus, 24-hour video security service is provided by the Hotel Zorzis. If you are a confused about your tour program, you will get here proper advice as well. And while staying here, you will love to spend a great time at the balconies and the sun terraces of the hotel. Lastly, the hotel also offers the facilities like breakfast garden, kitchen facilities, drink making facilities and refrigerator.
Hotel Facilities:
  -   Daily Maid Service
  -   Laundry Service
  -   Porter Service
  -   24-hour Video Security Service
  -   Balconies
  -   Sun Terraces
  -   Breakfast Garden
  -   Kitchen Facilities
  -   Drink making facilities
  -   Refrigerator
Room Amenities:
  -   Private ensuite bathroom with power shower
  -   Air-conditioning
  -   Stereo Television
  -   Radio
  -   Direct dial telephone
  -   Private safe deposit box
  -   Ceiling Fan
  -   Hair Dryer
MykonosTour Hotel ID: 2189