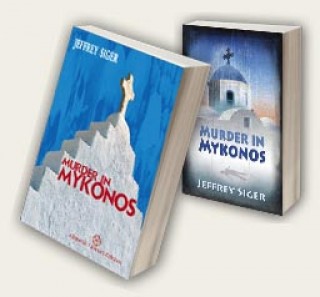 A Mykonian Mama Mia Sort of Setting for a No Country for Old Men Style Story

American author and Mykonos devotee Jeffrey Siger's debut novel, Murder in Mykonos, is a book written with the ease and expertise of a local that is sure to appeal both to travel buffs and mystery lovers. First published last year in Greece (in Greek and English) by Aikaterini Lalaouni Editions, it immediately became Greece΄s #1 best selling English-language book of the summer. In January 2009, it was published in the US by Poisoned Pen Press and received widespread critical acclaim and bestseller status there, too. Soon it will be published in Germany by the Goldmann Publishing arm of Random House. Complete reviews and media coverage are available at http://www.jeffreysiger.com/.

Murder in Mykonos has the makings of a classic Greek tragedy: a young woman, a reversal of fate, and a pile of bodies. But without the fates to explain away the crime, the pressure is on Athens homicide detective Andreas Kaldis to uncover the truth. That truth lies somewhere underneath a remote mountain church where the body and another unidentified pile of bones were found. But the media isn't making Kaldis' investigation any easier. When another young woman disappears, Kaldis must plunge into ancient myths and forgotten island places, before this zealous murderer claims another victim.

"I wanted to write a story that would allow me to describe in detail the way I see Mykonos, the real beauty, the beauty of its people and of the way of life here. Since writing about flowers, pelicans and picturesque tavernas was not exactly my style, I thought that the best way to awaken the interest of the reader was through the intrigue of a murder mystery."

Murder in Mykonos is a fast-paced mystery laced with local, historical, and mythical details that prestigious reviewers such as Library Journal praised as capturing "the rare beauty of the Greek islands" and Esquire Magazine (Greece) wrote, "With ten million Greeks, half of whom think they are writers, how come we had to wait for a foreigner to come along to write such a book!"

The sequel, Assassins of Athens, comes out in Greece this summer from Aikaterini Lalaouni Editions, but only in Greek. The English-language version will be published in the US in January 2010 by Poisoned Pen Press. As with Murder in Mykonos, Siger combines his unique perspective and insider-like knowledge to create a novel highly entertaining, yet thought provoking—for Assassins of Athens is a Greek tragedy of another sort:

When the body of a boy from one of Greece΄s most prominent families turns up in a dumpster in one of Athens΄ worst neighborhoods, Chief Inspector Andreas Kaldis of the Greek Police΄s Special Crimes Division is certain there΄s a message in the murder. But who sent it and why? Andreas΄ politically incorrect search for answers takes him deep into the sordid, criminal side of Athens nightlife and on to the glittering world of Athens society where age-old frictions between old money and new breed jealousy, murder, revenge, revolutionaries, and some very dangerous truths.

Jeffrey Siger, born and raised in Pittsburgh, Pennsylvania, practiced law at a major Wall Street law firm and, while there, served as special Counsel to the citizens group responsible for reporting on New York City's prison conditions. He left Wall Street to establish his own New York City law firm and continued as one of its name partners. Now he lives and writes full time among the people, life, and politics of Mykonos, his adopted home of 25 years. When he's not in Greece, he enjoys his other home, a farm outside New York City.

MykonosTour Page ID: 663