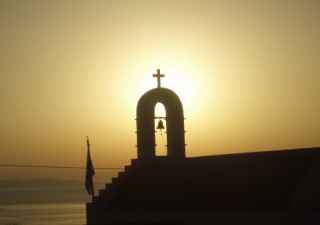 Churches of Mykonos...

A characteristic feature of the mykonian landscape is the plethora of votive chapels. After the World War II it was said that these chapels were as numerous as days of the year. The locals continue the tradition of building chapels as an act of devotion. It is estimated that the number of chapels today is close to 800 (which is actually one per local family).
Some chapels are very old and have been designated as historical monuments by the Ministry of Culture, but the majority of them have been built during the last two centuries. These charming simple constructions, with a (usually) red arched roof, ornament the mykonian countryside. They play a vital role in the ilies" spiritual and social life. Let alone in Chora it is said to be about 60 churches!
Mykonos has also many Monasteries , with a great architecture and religious peaces of art such as:
Agios Panteleimonas (17th century)at Marathiι,at Ano Mera the great Monastery of Panagia Tourliani (16th-18th century) the Monastery of Paleokastro (18th century), and Agios Georgios in Ampelokipos. During the past there were several more such as Agios Loukas with its famousreligious school on the 18th century, which is today the cemetary of Chora.
Churches of Mykonos Island Greece PHOTOS Churches of Mykonos Island Greece
MykonosTour Page ID: 51