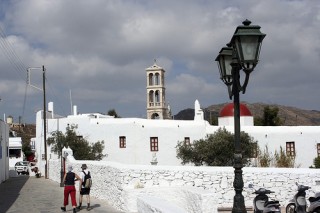 Panagia Tourliani Ano Mera - Mykonos
The monastery of Panagia Tourliani is the most significant highlight of the ANO MERA village, about 8. kilometers east of MYKONOS TOWN. The monastery was founded in 1542 by monks of the monastery of Katapoliani of Paros, on the site that earlier was the church of "Eisodia tis Panaghias" (Presentation of the Virgin Mary).
In 1767, the monastery was restored, assuming its present shape. Its marvelous architecture is impressive, especially the part which belongs to the bell-tower. In the monastery"s yard, there is a marble fountain, which has sculptured decorations, while the superb wood-carved "templo" (screen) of the church has been constructed in Florence. A museum operates inside the monastery, which features religious exhibits like vestments, Byzantine and Renaissance icons, the first bells of the monastery and other ecclesiastical gems.
It is also worth mentioning how important the monastery was to Greece during the German occupation.
Panagia Tourliani is named after the dome (tourlos in the Mykonian dialect) of the church, and is the name of an Icon of Virgin Mary. This Icon is believed to be blessed or miraculous, as most people say in Greece, and many go there to pray. Panaghia Tourliani is considered the Patron saint of the island and is celebrated on the l5th of August
Panagia Tourliani Ano Mera - Mykonos
MykonosTour Page ID: 87