Mykonos lighthouse (Armenistis)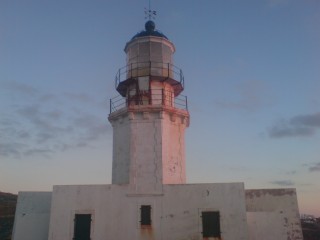 The mykonian Lighthouse called Armenistis is worth visiting cause the scenery around it . From there you may see all the boats arriving and departing Mykonos .Tinos island looks like it is next to you from there .the lighthouse Armenistis is at the northeast of the island and 7 km away from Mykonos Town . You can get there by following the sings to Fanari .
This lighthouse (Armenistis) was manufactured in 1891. The altitude of tower is 19 metres and the height of focal plane is 184 metres.
The access to the lighthouse becomes roadly from Saint Stefanos. The mechanism of first lamp of "Armenistis" is exposed outside by the building of Aegean Naval Museum that is located in a traditional building of 19th century, in centre of Mykonos, near to place Three Wells (Tria Pigadia).
MykonosTour Page ID: 195
Related pages