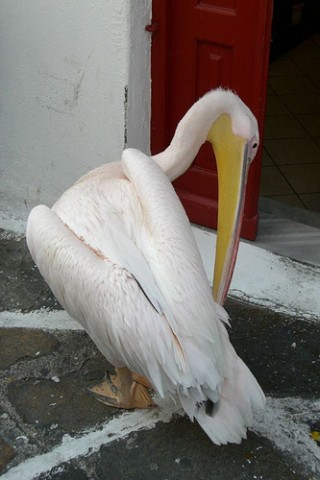 The Pelican Of Mykonos Island - Petros the pelican .
Petros the Pelican - An old celebrity of the town"s waterfront, "Petro" has been the official mascot of Mykonos for many years. Found after a storm in 1954 the pelican gave up its migrating to become a local resident. After more than thirty years of making the island his home, Petro eventually died. The loss of such a personality was so deeply felt by both Myconian and tourist alike that a replacement was soon found and a tradition established. Through the care and protection of the islanders, the spirit of Petros lives on in his predecessor who continues to this day to make his home on the islands waterfront.
Petros the Pelican (another story about him)

Petros the Pelican
Petros the pelican was a White Pelican, who was the official mascot of the Greek island of Mykonos.
In 1954 a fisherman of Mykonos found a wounded pelican.
He nursed it and after it had recovered the pelican stayed. It was fed by the local people of the island. And they named him Petros.
After a while it became the mascot of the island. In 1986 he died.
Nowadays three new pelicans live around the main town of Mykonos. One of them is also named Petros.
Pelican Of Mykonos Island - Petros the pelican .

MykonosTour Page ID: 118