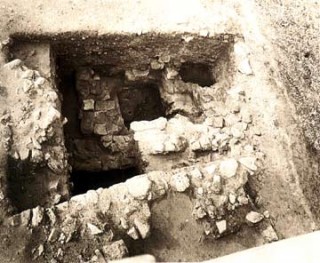 Ftelia Beach at Mykonos Island Greece . The History .
At the furthest recess of the Bay of Panormos, which cuts deep into the northern coast of Myconos, archaeologists excavating a 7,000-year-old settlement have unearthed well-preserved remains of public buildings and a rare example of the Neolithic goldsmith΄s art.
Dig head Adamantios Sampson told Kathimerini that this year΄s excavation at Ftelia, a beach popular among windsurfers, turned up two small buildings ending in apses that were probably not used as simple dwellings. He believes the structures — whose walls survive to a height of 1.8 meters — may have been granaries, or even cult areas.
An earlier building, dating to around 5000 BC, is seen as a precursor of the Megaron type that evolved into the basic unit of the Mycenaean palace and the first Greek temples.
This year΄s excavations also unearthed large quantities of locally made Neolithic pottery, obsidian blades, terracotta figurines and the fired clay model of a boat, as well as an extremely rare circular gold pendant with a hole in the middle for suspension.
sourse www. ekathimerini.com
MykonosTour Page ID: 176