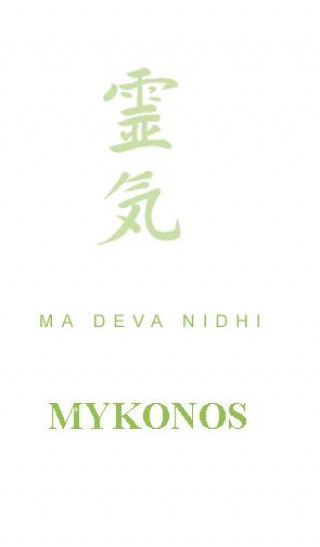 My name Nidhi was given to me by my spiritual teacher in India. I am also known as Jo in England, where I was born, and on Mykonos, the beautiful island where I live and practice holistic therapy.
Much of my training was done in India at the Healing Arts Faculty of Osho Multiversity in Pune, as well as in France and Greece. I would like to take you on a journey to health and well-being, offering you the experience I have collected for more than 15 years.
My own personal journey through many experiences and teachings - the wisdom of India, the scientific research of other lands, the healing traditions of many cultures - has led me to the understanding that human beings need balanced awareness
on all levels in order to be well.
My aim is to guide and aid the integration of these levels - correct energy flow, balanced nutrition, physical and emotional awareness to bring about a possible achievement of greater consciousness.

WITH 15 YEARS OF EXPERIENCE MY STUDIES INCLUDE
Reiki (levels 1 and 2)
The Traditional Japanese School of Usui.
Advanced Osho Neo Reiki, Rebalancing (level 1),
and Advanced Holistic Massage
Osho Multiversity, India.
Creative Healing
Joseph B. Stephenson Foundation, California.
L" Equilibre Energ?ιtique, based on
the Chinese healing method of the five elements
Club d" Etudes et Recherches Henri Chenot, France.
Tachyon Practitioner (levels 1 and 2)
University of Integrated Science, California.
Aromatherapy, Aura Soma, Joh Rei energy therapy.
APPOINTMENTS
Treatments can be arranged at your residence or hotel
as well as my practice. I shall be happy to accommodate
your wishes whenever possible.
MA DEVA NIDHI - JO CHURCH
Holistic Therapist
TELEPHONE 22890 23426
MOBILE 6945 407119
(Prefix +30 outside Greece)

Ma Deva Nidhi - Jo Church, Mykonos, Greece, Holistic, therapist, therapy, therapies, sessions, reiki, Rebalancing, Creative Healing, Aromatherapy Body Massage, Swedish, Joint Release and Rebalancing methods, Holistic Massage, Aromatherapy Facials, essential oils, healing energy of plants, hands on healing method, Lymphatic Drainage technique, Lifting and Moisturizing Treatments, herbal products and organic sources, energy reading, Creative Healing, lymphatic system, massage treatment, energy re-alignment , Tachyon Therapy, Tachyonized¨£ Linear Crystals, Tachyon Practitioner, Aromatherapy, energy therapy, kinesiology, healing, holistic, health, therapy, mind, body, spirit, tension, stress, relaxation, balancing, healing methods
MykonosTour Page ID: 422