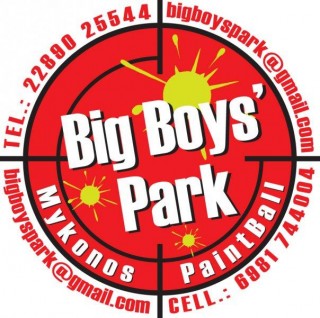 GREEK PAINTBALL GREECE FIELD
The BIG BOYS PARK MYKONOS Paintball Field is a combination of speedball and recball, we can host up to 12 players, in an area of 1500 square meters, with the capability to play 24 hours a day. The games are arranged with appointment. You can arrange an appointment by or by phone or by e-mail.
OUR LOCATION AT FTELIA BEACH  
The BIG BOYS PARK MYKONOS the Greek Paintball Field is located at the centre and north of the island at FTELIA beach. Taking the way to ANO MERA at 6th km you turn left and go down to the beach and you will see the field at your left, 200m from the beach.
GREECE PAINTBALL THE OUTFIT  
Marker
Tippmann 98 Custom 
200 PAINTBALLS
Protective
Mask  VFORCE ARMOUR
Gloves
Chest Protection for women
Belt for EXTRA paintballs (for those who want to carry EXTRA PAINTBALLS)
FREE refill for the air-compressed bottles.
We offer outfit for rent  (if you dont have the appropriate clothes to play)
ONLY PAINTBALLS OF BIG BOYS PARK ARE PERMITTED
CONTACT TELEPHONE BOOKING: +30 22890 25544 , +30 6981 744004
for booking you should make a typical deposit
If the number of the players are under of twelve (12), they could participate to the game people that will be at the field.
MykonosTour Page ID: 702