Mykonos IEK Vocational Institution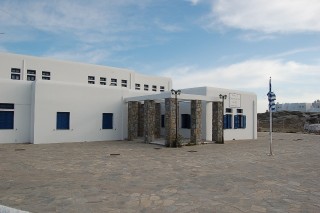 For the past 2 years the island has got a vocational institution, called IEK, where adult people can learn Accounting and Cooking. It was an initiative taken by the Mayor Mr Christos Veronis and the Organization for Vocational Training after the demand of Myconians. There are 23 women and men who are currently studying accounting and 12 who are learning how to cook and be assistant chefs. The Accountants are in the 3rd semester and finish in June after completing 2 years of training.
The Cooks are in the first semester and get their degree in June too since their field of study lasts only one year. When they have to make sweets they go to Chocolart Pastry Shop and practice under the guidance of Mr John Argyriou who is their instructor. On Fridays when they have cooking practice they go to Elena Hotel with their teacher Mrs Koutsoukou. As of next year ,i.e. 2008, 2 more specialties are going to be added : Receptionists and Travel Agency Employees. The theoretical part of the training takes place at the premises of the Lyceum or High School of Myconos in Petinaros Area . TEL 22890-28529, 2289023261,
CONTACT PERSON Ms Kotsiliti Mary, English Teacher.
MykonosTour Page ID: 451
Related pages
Related Map: