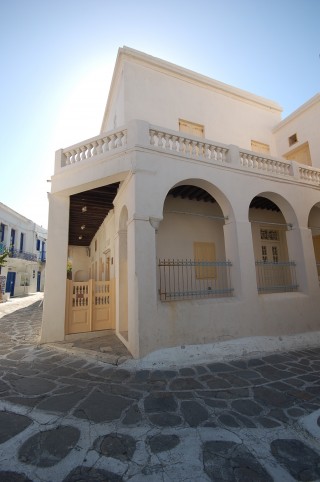 Mykonos Public Library
More than 6,000 volumes, most of which are in Greek, are in the Public Library of Mykonos housed in an old mansion on Ayia Kyriaki Square. The mansion was built in 1735 and was acquired by the Municipality in 1977.

The books are a gift from the Mykonian historian Ioannis Meletopoulos and contain his complete library and books from the personal libraries of others. Included with the collection of books are Cycladic coins and old seals.

The library also contains sketches and books from the personal library of the legendary John Ratekin, an American artist to came to Mykonos to live in 1966, when gays began discovering the island. He is famous for his stark, dramatic black and white sketches of landmarks on the island, such as the Mykonos Bar and the windmills, and also for his poetry, some of which he wrote on walls. He befriended the fishermen and they him and he wrote their names on their boats.

Ratekin was part of the group that first assembled at Piero"s Bar, one of the first on the island to willingly accept gay patrons. Soon artists from all over the world assembled on the island to paint the unique landscape, the cobble-stone pathways, and charming homes. But Ratekin was among the best of the lot and he stayed the longest and created exciting black and white sketches that he sold to tourists. He is also responsible for the first "Tourist Guide to Mykonos," which featured his art work. His sketches are a historical record of the evolution of modern day Mykonos seen through the eyes of an artist. Many of his poems, paintings, and sketches can be found in the Municipal Library and were originally housed in his gallery, called "the Dreammaker"s House," located in Alefkandra where the Veranda Cafι now stands.

MykonosTour Page ID: 46