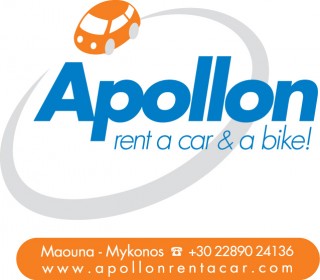 APOLLON RENT A CAR MYKONOS
The company Apollon Rent a Car is situated on the island of Mykonos
one of the most beautiful islands of Greece. Our long term experience in the field of car rental enables us to provide high quality services to our customers.
MAOUNA CROSS ROAD 84600 MYKONOS
TEL: 00302289024136

About us
For 20 years Apollon Rent a Car is renowned for offering a seamless personalised car and motorbike rental service on the island of Mykonos. Our reputation is built on valuing and satisfying the needs of our customers and associates through the highest levels of professionalism.

Our unique services include free 24-hour parking in the town of Mykonos as well as car pick-up and drop-off anywhere on the island. Whether arriving at the airport, the port, a hotel, a private marina or at any beach by yacht, a member of our friendly staff will deliver your chosen car. When departing the island, the car will be collected at the most convenient location for you.
Choose from our wide selection of jeeps, cars, scooters and quad runners at highly competitive rates to suit your specific requirements and budget. Our entire fleet is continuously serviced warranting reliable and safe transportation around the island.
Apollon Rent contact us our rent a car company please with the email form below and we will be glad to assist you.
MykonosTour Page ID: 381