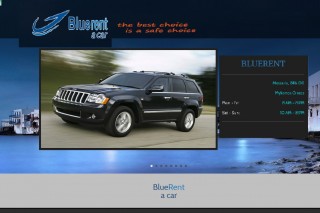 Bluerent is a new company at Mykonos Greece, associated with car rental. Rent a 4x4 or a car at Mykonos now.
Blue Rent was founded in 2014 from new pro­fes­sion­als with the pur­pose of intro­duc­ing inno­v­a­tive ser­vices in the indus­try of rent­ing and car leasing.
Our basic pri­or­i­ty is the pro­vi­sion of high qual­ity ser­vices, based on the needs and desires of our clients ..
In order to cover the needs of even the most demand­ing cos­tumers, our fleet is perfectly maintained.
Nav­i­gate through our web­site and make your book­ing online 24⁄7 from our con­tact form and don't hes­i­tate to con­tact us for any information or inquiry. Thank you for your pref­er­ence and we wel­come you in our family.
Our Cars:
MERCEDES cls350
BMW 325
SAAB 9-3 aero
MITSUBISHI Colt
TOYOTA Yaris
DAIHATSU Sirion
FIAT Panda
SMART Cabrio
HYUNDAI Matrix
NISSAN Primastar
Our 4x4:
KIA Sportage
JEEP Cherokee
JEEP Grand Cherokee
TOYOTA Rav4
DAIHATSU Terios
SUZUKI Jimny
BMW X5
MykonosTour Page ID: 739