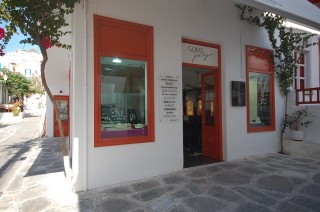 Gofas Jewellery Shopping
At the end of the sixties the first GOFAS jewellery has been established in Athens.

Since then, the GOFAS jewellery shops, located in Athens and in Mykonos Island, maintain a loyal and satisfied clientele.

The jewellery we propose to our clients are unique, have a high quality and fulfill the highest production standards.

The shops, properly decorated, give a pleasant and luxurious atmosphere. The people, carefully selected, are always willing and polite at all clients' desires and search.

GOFAS Jewellery carry exclusive designs of the most important Greek designers. Furthermore, we cooperate with the most impressive and world renowned brands of watches. So, when in Athens or in Mykonos make sure you visit GOFAS Jewellery enjoy our hospitality and give us the pleasure of welcoming you in our stores.
MYKONOS ISLAND

43 Matoyianni street
846 00 Myconos
Greece

Tel: +30 22890 24521
Fax: +30 22890 24816
This is a free listing for this shop at Mykonos. If you are interesting to change or add more information prices or pictures for this shop please contact us.
Greece Mykonos shopping Greece pictures of the shops and hotels in Mykonos Greece Mykonos island Mykonos town.
MykonosTour Page ID: 512