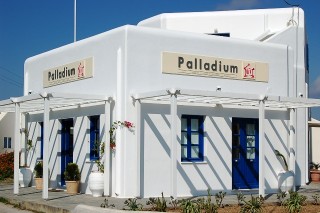 Palladium is your own house store in Mykonos
Address: Airport, Mykonos, T.K. 846.00
Ira Papadopoulou,
Tel.: + 30.22890.26730
Fax: + 30.22890.26730
For us each customer is important and is eligible our attention and the same service. The quality and the drawings that we allocate are unique and you can find exclusively in our shops.Professional spaces, you create spaces unique, intelligent manufactures that economise space and give solutions.
Proposals of Gifts The gifts are messages. make a choice of various objects from our big collection. This objects we have categorized so that you easily find what you want. We hope to help you make more beautifully gifts creating and better relations.
Or how you set up a amazing table.... It is indeed art you make a table that it would distinguish for your calling. However each table needs certain basic components which are not other than the sets that you use. In this of sector we can help with the proposals that follow in cutleries, dishes and glasses. In our shop you will find naturally still bigger variety in eponymous sets for your house for the list of marriage that you will make if you are to be wedded.
List of Marriage List of Marriage for those who they want distinguish, as you!! the achieved institution of List of Marriage you helps you equip your space according to your style and you
In this page you can to us send your questions for any subject that concerns our products us you ask information on care of domestic objects still us to ask for decorative ideas objects that you search to find.
We will try to satisfy you also in every case you we will answer as soon as possible.
MykonosTour Page ID: 424