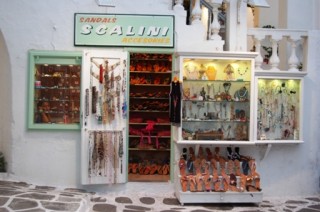 Sandals Mykonos Hand Made Sandals Scalini
ACCESSORIES CLOTHES SANDALS MYKONOS
MATOGIANNI STR.
Sandals Mykonos Scalini Mykonos
TEL : 00302289025601 Sandals Mykonos
Sandals Mykonos Scalini Mykonos HAND SANDALIA MYKONOY
Ranias sandals store the last years is the meeting point of all trendy women on the island of Mykonos, the cause is the tremendous SANDAL, the ultimate fashion of the beach every year.
Since last year, slightly below at the first floor of the Matoganni 39 you can give you specific orders to the plan or colour that you would like your sandals have or look as it is at your mind and a few days later you will have the sandals of your dreams and they will wear only by you.
MykonosTour Page ID: 680