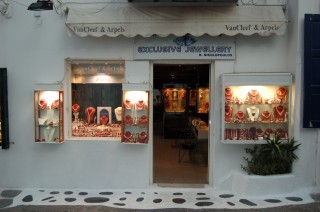 Goldstar Marquise Mykonos shopping at this jewellery
In the early 30"s Spiros and George Nikolopoulos established their first jewellery shop in Patras,Greece. Later on in the mid 70"s Vasilis Nikolopoulos visited Mykonos island and never left. He and his wife Joanna, fell in love with it"s aura and glamour, and decided to open up "Marquise" and "Gold Star" jewellery shops. Ever since then, "Marquise" and "Gold Star" provide high quality products and excellent after sales services.
Three generations later, one is still able to find the same hospitable environment, same team, but which has now been joined by Vicky and Spiros, their children.
Vicky is a qualified gemologist, certified with a G.G. diploma from the Gemological Institute of America (GIA), which ensures top quality merchandise, precious and semi-precious gemstones.
Spiro is qualified in jewellery design and construction.
Goldstar Marquise Mykonos
This is a free listing for this jewellery shop at Mykonos. If you are interesting to change or add more information prices or pictures for this jewellery shop please contact us.
Greece Mykonos jewellery shopping Greece pictures of the shops and hotels in Mykonos Greece Mykonos island Mykonos town jewellery.
MykonosTour Page ID: 187