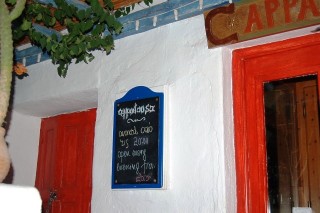 Appaloosa Bar Restaurant  in Mykonos Town.
Appaloosa is one of the restaurants in Mykonos town that stay open almost all year round. We promise you a fun evening in an relaxing & colourful enviroment that you will not forget -  regardless of the amount of sangria  or Margarita you may consume. From local flavours and organcic salads to nachos -burritos, indonesian noodles and chicken wings are only some of the delicious dishes that may accompany your drinks at bar.

A hot spot for many locals and 'regular island-lovers' who really know where to dine, drink and listen to good music at reasonable prices... You too, will appreciate this spot .
It is  the hip and relaxing restaurant-bar at the 'heart' of Mykonos Town at Goumenio Square near the harbour front. Bookings are not available but you may call ...to let us know you're on your way...on -00302289027086 ( at the most, you may have a drink or cocktail at the bar while waiting for a table-which gives us a chance to get to know each other! )
You may also visit our facebook connection (APPALOOSA RESTAURANT - BAR, MYKONOS)
This is a free listing for this restaurant bar  at Mykonos .If you are interesting to change or add more information or pictures for  restaurant bar  please contact us with the email form below and we will be glad to assist you.
Mykonos Tour is always in an update progress so people will find all the details that they are looking for. Restaurant Bar owners are always welcome to add or update their information at Mykonos Tour Network by filling the form from the contact us section. Form »
MykonosTour Page ID: 250