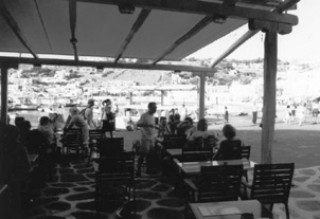 Phos Cafe Bar Mykonos Island .
Phos Cafe is situated in Mykonos town at the waterfront, near to the boats for Ancient Delos and where the famous pelicans spend their time posing for photographs. It is a great place to be morning, noon and night. Leisurely watch the morning activity, fishermen bringing in their catch and farmers selling their produce. Get away from the heat and relax in the afternoons. In the evening enjoy the people watching as they prepare for the nightlife of Mykonos.
Open all year (sometimes closed January / Febuary) from 7am until LATE... ( 4 am July/August )
Join us for a drink, a snack or a big bite. Our menu is extensive and caters for everyone"s taste.
We serve fabulous breakfast ( including hash browns and baked beans !). Smoothies, fresh juices,shakes and a wide selection of coffees and teas. Crepes, fruit salads and movenpick Ice cream.
Snacks include many sandwiches or pitta wraps, fish and chips, a wide choice of Greek hot and cold appetizers such as tzatiki, saganaki, eggplant salad and many fresh seafood dishes.
Main dishes include fillet steak with a creamy pepper sauce, homemade beefburgers, schnitzel and chicken oriental. We also serve spaghetti"s risotto"s and meat from the grill.
Homemade desserts are also our speciality.
Wines..Beers...Ouzo...Cocktails and more....
Phos Cafe Proprietors: Adonis Alafasos and Nikos Ilioupoulos
Tel: (+30) 22890 24275
MykonosTour Page ID: 347