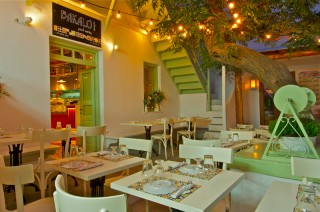 The location is a traditional Mykonian house dating back to the 18th century, complete with a courtyard garden, wishing well, archway and of course the thick white washed walls. This was the setting for intimate and cosmopolitan nights on Mykonos.

In the picturesque neighborhood of Lakka, in the heart of the old Town of Mykonos, Bakaló opened its doors and brought back memories long forgotten of real traditional Greek food, containing aromas and flavors from every corner of Greece. The menu is served in a warm, hospitable atmosphere combined with a sophisticated style and design.
tel (0030) 22890 78121.
MykonosTour Page ID: 775