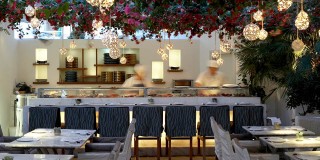 World famous chef, Nobu Matsuhisa, better known as 'Nobu', has for the last ten years become renowned around the world for his celebrity packed restaurants, which offer his unique 'new style' cuisine combining traditional Japanese ingredients with Peruvian influences.

Nobu felt it would be the perfect opportunity, as well as the ideal setting, to introduce his own cuisine to this beautiful island at the Belvedere Hotel. Legendary dishes such as Tiradito, Black Cod with Miso and New Style Sashimi, amongst others are available on the Matsuhisa Mykonos a la carte menu.
tel (0030) 22890 27362.
MykonosTour Page ID: 767