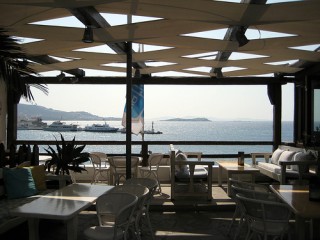 Blu-Blu cafe - lounge bar Mykonos Island
Blu-blu is a multifunctional cafe-lounge bar, with views of the port and the town itself. The perfect spot to enjoy the famous aegean sunsets with a freshly made coctail or an orange fruit juice. There is a comprehensive menu of drinks and food and if you are feeling home-sick you can stay in touch as Blu-blu is one of the most equiped internet cafe"s of the island, with 25 PC units and fast speed connection. Finally, you can catch all big sporting events of the summer, projected on a cinema-size screen, to satisfy the most demanding sports fans. Open daily from 09:00 to 04:00, all year round.
Blu-Blu cafe lounge bar is located at the old port, next to the archaeological museum. This restaurant has a wonderful panoramic view to Mykonos town, old port, Delos island and to the marvelous sunset. At blublu there is a three-levels indoor area with a big outdoor terrace with VIP area, parking and easy access for the cruisers. Here you can enjoy the best of the most famous Mediterranean dishes of the island. Open daily from 18:00 to 02:00, all year round.
BLU BLU lounge Tel: +30 2289028711
This is a free listing for this blu-blu Bar at Mykonos .If you are interesting to change or add more information or pictures for blublu listing please contact us with the email form below and we will be glad to assist you.
Mykonos Tour is always in an update progress so people will find all the details that they are looking for. Bar owners are always welcome to add or update their information at Mykonos Tour Network by filling the form from the contact us section . Form »
MykonosTour Page ID: 233