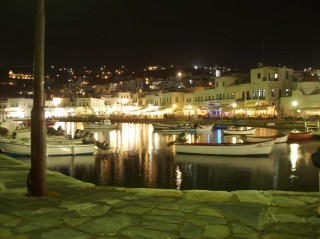 Mykonos at Night
What anyone can say ..Just go out! There are night bars, clubs and so... The Mykonos town city is specially alive during the night. After sunset, the village population increases and increases and increases.... There are some good bars and clubs next to the cliff in front of the WINDMILLS. You will not get lost...BUT IF YOU DO do not worry ... just follow your night instincts.
Mykonos at Night Mykonos at Night mykonos at Night mykonos restaurants mykonos restaurants
This is a free listing for All restaurant bar at Mykonos .If you are interesting to change or add more information or pictures for restaurant bar please contact us with the email form below and we will be glad to assist you.
Mykonos Tour is always in an update progress so people will find all the details that they are looking for. Restaurant Bar owners are always welcome to add or update their information at Mykonos Tour Network by filling the form from the contact us section. Form »
Alefkandra Restaurant at : Little Venice +302289022450
Alexis Restaurant at :On the Peripherical street +302289027494
Alvento Restaurant at :Art Museum +302289024334
Antoninis Restaurant at : Manto Square +302289022319
Apaloosa Restaurant at : Mavrogenous str. +302289027086
Arxeon Restaurant at : Kalogera str. +302289079256
Avra Restaurant at : Kalogera str. +302289022298
Barkia Italian Restaurant at : , Kouzi Georgouli str. +302289022563
Caesar Restaurant at : Goumenio Square. +302289023104
Cathedral Restaurant at : Mitropoleos str +302289023265
Chez Marias Restaurant at : Kalogera str. +302289027565
Edem Restaurant at :Panachrantou Church +302289022855
El Greco Restaurant at : Tria Pigadia Square +302289022074
Eva"s Garden Restaurant at : Kalogera str. +302289022160
Blue Ginger Restaurant at : Argirena +302289027602
Il Parmiigano Restaurant at : Lakka Square +302289027177
Il Parmigiano Restaurant at : Ornos Beach +302289026843
Kounelas fish tavern at mykonos town +302289028220
La Busola Restaurant at : Lakka Square +302289026348
La Casa Restaurant at : Matogianni str. +302289024994
La Maison De Catrine Restaurant at : Dilou str. +302289022169
La Taverna Italiana Restaurant at : Lakka Square +302289026540
Lotus Restaurant at : Matogianni str. +302289022881
Mamakas Restaurant at : Agia Anna +302289026120
Marco Polo Restaurant at : Lakka Square +302289022126
Narcissus Restaurant at : Kalogera str. +302289028360
Nikos Tavern at Ag. Ioanninou str. +302289024320
Pelekan Restaurant at : Goumenio Square +302289026226
Phillipis Restaurant at : Steno Malamatenias str. +302289022295
Paraportiani Restaurant at : Ag. Monis Square +302289023531
Sale & Pepe Restaurant at : Lakka Square +302289024207
MykonosTour Page ID: 199