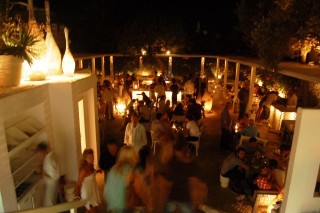 Interni deluxe restaurant . Interni deluxe restaurant at Mykonos
The team of Interni from Athens came to Mykonos and create a deluxe restaurant the Interni of Mykonos . Chef is Andreas Voulgaris and the unique team gave to this restaurant the placement of one of the best ten restaurants in Greece according to the 2003 Golden Hat Awards. The result is that if you ever enter this restaurant you will make it your hot spot , even if you just want to take your drink at the lovely bar that exists at the middle of the restaurant . Your nightlife at Mykonos can easily start from Interni and promises you to have the best time !
For bookings you may call at 00302289026333 or their fax 00302289026390 .
Interni deluxe restaurant at Mykonos POST YOUR PICTURES AND REVIEWS
This is a free listing for Interni restaurant bar at Mykonos .If you are interesting to change or add more information or pictures Interni restaurant bar please contact us with the email form below and we will be glad to assist you.
Mykonos Tour is always in an update progress so people will find all the details that they are looking for. Restaurant Bar owners are always welcome to add or update their information at Mykonos Tour Network by filling the form from the contact us section. Form »
MykonosTour Page ID: 248