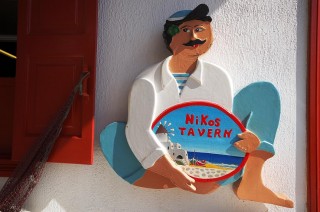 Nikos Tavern in Mykonos town.
Nikos is the owner of this Mykonian Tavern and trust me you will find him there watching everyone doing his job like he have learn all these years feeding thousands of tourists and never anyone of them complained for anything .
Best Greek food is served fast and well cooked and at the end the prices will satisfied you with the way that only Nikos knows . Greek Mousakas dolmadakia and fishes that they were fished in the morning - so fresh - will be the best choices from a very good menu of Greek dishes .
Nikos Tavern Mykonos
MykonosTour Page ID: 253