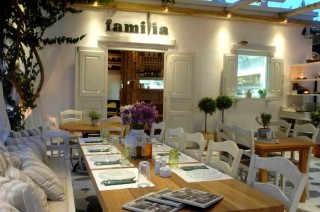 Familia restaurant is undoubtedly the best choice for fantastic food under a friendly and family atmosphere in Mykonos island! Besides, its name says it all! Familia! The restaurant offers a menu with wide variety of Mediterranean flavors to choose from, including fresh fish from the Aegean sea, while you must certainly not miss to taste the shrimp pasta called "giouvetsi" with truffle and the watermelon salad with mushroom! It is certain that the variety in the list of Familia restaurant will keep you satisfied and you'll taste unique dishes that will be unforgettable!

Build with great care and fully respecting the simple traditional Mykonian architecture, the restaurant Familia was modulated with discrete interventions in the stunning and picturesque landscape of the island's square, for you unique moments of gastronomical delight! The tastefully decorated restaurant is surrounded by a flavorful bougainvillea and a soft lighting at night, enjoining the breathtaking view of the landscape of Mykonos with its white houses and blue windows.

You can also enjoy a drink or cocktail in Familia restaurant at noon till late evening. The restaurant is open from 12:00 am to 2:00 pm from March to October.


Familia Restaurant 
Goumenio Square,
TEL:
+30 22890 78638
MykonosTour Page ID: 785