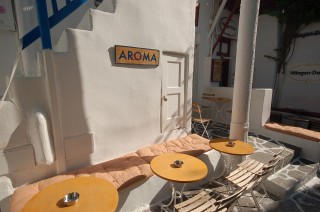 Moonlit nights on the Aegean....
Music till dawn.....
the best coffee and cocktails
that keep you coming back for more.


An Aroma Night.
Come join us.......
Aroma Cafe Mykonos is located in the center of Mykonos Town and is the perfect place for those looking for a delicious coffee, a rich breakfast and the cocktails of the night. Everything is served with care and with the sounds of world music playing throughout. Open all day long, "Aroma Cafe" makes your stay in Mykonos even more unforgettable.
Aroma Mykonos is our first CD released under the Eros label in Greece. The CD contains 12 Afro-latin tracks that Aroma Cafe Mykonos is famous for. Aroma Music can be purchased online via DISCOBOLE in the E.U and GREEKSHOPS.COM in the US.
Aroma Cafe Mykonos
Andronikou & En. Dinameon
This is a free listing for Aroma Cafe at Mykonos .If you are interesting to change or add more information or pictures for this listing please contact us with the email form below and we will be glad to assist you.
Mykonos Tour is always in an update progress so people will find all the details that they are looking for. Bar owners are always welcome to add or update their informations at Mykonos Tour Network by filling the form from the contact us section . Form »
Aroma cafe mykonos town - aroma bar mykonos aroma cafe mykonos town - aroma bar mykonos aroma cafe mykonos town - aroma bar mykonos .

MykonosTour Page ID: 264