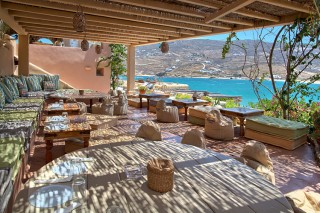 FTELIA
The total beauty of realaxation.

Hippie-chic philosophy and cool mood are all about the homonym beach-restaurant of Ftelia.It is builted like an amphitheatre on  the left side of the beach, decorated with beanbag, sofas, bolsters, patchwork quilts and view to the whole cove. Enjoy iced cocktails and fresh juices. At midday try something from the qualitative Mediterranean cuisine.
P.S. Try sure calzone with mascarpone and Nutella!
Ftelia, Tel: (0030) 22890 72466.
MykonosTour Page ID: 765