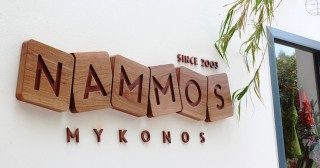 NAMMOS RESTAURANT PSAROU BEACH MYKONOS - Nammos Restaurant on the beach of Psarou Beach .
NAMMOS.
Luxury.
One of the most famous and popular areas in Mykonos,which has nothing to jealus of the limits of Europe is Nammos.You will meet this in Psarou beach and you will stand out Nammos from the majestic sunbeds,towels and umbrellas.Also,from the brilliant staff,which service even sushi for all the styles.This magic scenery becomes better with the saxophonist who accompanies dj's music choices.Nammos has its own parking.
P.S.While the sun comes down ,enjoy your cocktail in the bar with the big bolsters.
Psarou, Tel: (0030) 22890 22440.
One of the most beautiful and chic restaurants at Mykonos island. The story is this : it was a simply  restaurant for many years ago until the new management at 2003 decide to make the peaceful taverna by the sea of Psarou to the place where all celebrities and the jet set of Greece and not only  are enjoying the best dishes the best wines and having  the best party late at the afternoon when the D.j. turns on the volume and every one is on the tables dancing and forgetting all the worries back home .
The service is unique and the prices expensive but … you are at the best spot with all the vips next to you eating drinking and dancing. At the beach there are umbrellas and san bathing chairs for 20 euros per person but the refreshments are the best. Imagine the Greek San on your body the biggest cocktail you ever had the best music in your ears and the jet set of Greece next to you ..  this is the  LIFE at Nammos .
MykonosTour Page ID: 254