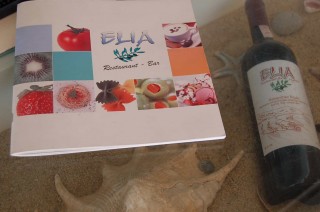 ELIA.
Dreamscape.
The homonym beach-bar,with olive as dominant characteristic,which you will meet in Elia beach,it will be unforgettable to you.It welcomes you in its finest and relaxing environment with luscious breakfasts,juices and snacks.Try the meditteranean cusine,fresh salads,fresh fishes and Italian spaghetti.Enjoy the turquoise water of the beach and travel to your dreamland.
P.S.In the afternoon you can admire the sunset while you drink an iced,stylish cocktail from the bar.
Elia, Tel: (0030) 22890 71204.
Mykonos Elia Beach Restaurant.
At one of the most cosmopolitan beaches of Mykonos Elia Beach , there is a paradise on earth.  13 Kms South of Mykonos. You can get here by public bus, also by boat from the other south coast beaches, are my recommendation, just rent a car during your stay to Elia Beach.
I certainly would go to Elia Beach during your stay on the island  It is quiter than the other popular beaches like Paradise, Super Paradise, and Platis Gialos. Here there is plenty of room to swim, walk, and also shouldn't be a problem finding an umbrella and sun beds as it can be at some of the other beaches. The Elia  bay is bigger but still protected and it has a really cool laid back atmosphere. Elia Restaurant  Cafe-Bar is a fine place with attention to the detail. You can start your day there by enjoying your coffee or breakfast next to the deep blue water, combining, in a unique way, the exotic with the traditional.
When the scents of the Greek specialties caress your senses, do not hesitate to taste the Mykonos island fresh fish, as well as the chefs original creations from pasta and meat, accompanying it with a cool salad of your choice.
Relax and watch the sunset by sipping a delicious cocktail at the pool bar.
The ideal recipe for your summer dash.
At Elia Restaurant/Cafe-Bar.   Where reality touches the dream !!
MykonosTour Page ID: 255