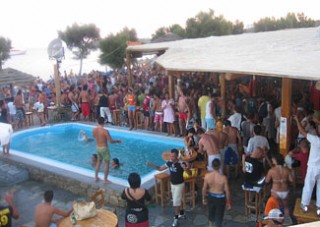 Hot beach-bar.
In Paradise beach you will meet the most sexiest and hottiest beach-bar of the island.It is the first choice for  young people and not only for them.In the morning  welcomes you with fresh juice,coctails,and breakfast.When the party begins champagne is the main drink people order.Loud mousic from famous djs,crazy parties and shows.
P.S.Remember the name "Sasa".
Paradise, Tel: (0030) 22890 26124.
At the Tropicana Beach Bar Mykonos, you can enjoy refreshing drinks, juices, cocktails and coffees that will cool you down in the heat of the summer party . Paradise BEACH BAR  is the bar special for beach partys .
Paradise Beach Mykonos, where Tropicana Beach Bar is located, has many umbrellas, deck chairs and other facilities for sunbathing on the golden sands and swimming in the deep blue Aegean Sea. The Tropicana Beach Bar on Paradise beach Mykonos provides the best entertainment and has become the hot spot for young people on Mykonos Island. Here you can party all day long, from early in the morning to the early evening .
The Tropicana Restaurant on Paradise Beach, Mykonos operates from early in the morning. It is located right on the beach, covered with pergolas that offer shade to diners.
The Tropicana Restaurant Mykonos serves delicious Greek and Italian dishes, made from the freshest ingredients, including grilled meats, pastas, pizzas, gyros, souvlaki and a variety of fresh salads.
You can also have a wide range of snacks and hand food serve on the beach, to satisfy your hunger after a vigorous swim or a day sunbathing in the Mykonos sun.
MykonosTour Page ID: 269