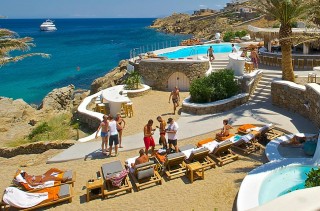 JACKIEO' BEACH
Elegance.
In the right side of Super Paradise beach is builted in an advantageous area, on the hill this perfect designed beach-bar. Beautiful stones,palm trees, excellent service,two pools, Jacuzzi and massage services are offered in Jackieo'. Christopher Peskias, the chef, will excite you with his tasty suggestions.Coctails , swimming in the sea and the pool,comforts and elegance drive you in a magic,dream world.
P.S.Exciting drag shows until the next morning.
Super Paradise, Τel: (0030) 22890 77298.
MykonosTour Page ID: 743