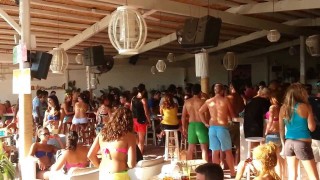 KALUA.
For party lovers.

In Paraga beach we will meet the known in everyone Kalua which makes us sure that the biggest parties happen in the smallest beaches.Dance,music,drink,food or just relaxation are offered here,that's why we characterize that like "must-see".We warn you that parties never stop before the sunrise.
P.S.Try the cocktail "Kalua Waterlemon".
Paraga, Τel: (0030) 22890 23397
KALUA BEACH BAR  Paranga beach .
Very well designed beach restaurant - bar on PARAGA BEACH .This is the bar special for beach partys .  Serving an international cuisine including pasta, seafood, cocktails and beverages. Beach party at this bar is unforgetable.
MykonosTour Page ID: 272