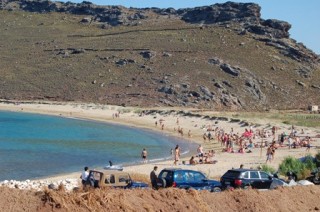 Panormos beach bar
PANORMOS BEACH.
Hippie atmosphere.
In Panormos beach we will meet the alternative, easygoing beach-bar. Brilliant atmosphere hippie-chic style, huge, comfortable sofas and beanbags, earthly colors  and spontaneous parties make visitors a huge company. Don't forget to try its prizewinning cuisine which promises to you great tastes.
P.S. Relax and sun therapy on the bolsters.
Panormos, Tel: (0030) 22890 77184.
When people say beach bar or beach restaurant they must mean this one in Panormos beach . The team is the best team in Mykonos island and the food and beverage industry with the manager Giorgos always so friendly and with the best dishes in Mykonos exactly on the beach . that means that your feel will feel the golden sand of Mykonos when you will be eating  and enjoying your self with the best music and with all the hits of the summer .It attracts many celebrities but you will never feel that this is a  snobby   place . The atmosphere is unique and really worth experiencing .
The Panormos Beach Bar & Restaurant is located right on the sandy beach of Panormos Bay, on the northern coast of Mykonos Island. It is a combination of traditional Cycladic architecture with eastern-style features, painted in earthy shades and decorated in simple and casual but elegant manner.

Our Mykonos restaurant is covered by a desert-camouflage net, providing shade where you can sit on chairs at high tables or on throw cushions at low tables. Potted plants, palm trees, lanterns, vases and objet d'art add the finishing touches to the unique atmosphere of the beach bar & restaurant. It is one of the most special Mykonos restaurants and bars.
MykonosTour Page ID: 256