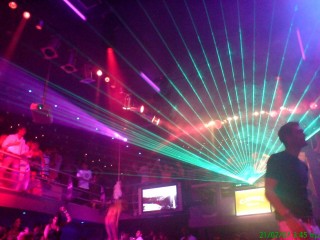 SPACEDANCE MADNESS MYKONOS X PERIENCE
Dj"s team
RESIDENTS:GOGOS - FREESPIRIT - MARKISS PORTIA SURREAL & dj DATIOUS FXXX
GUESTS: GEE -TOM HYPER - GUBELLINI GRAMMATIS - J. TRANTIDES - MAD MARK - TANIA LACROIX
Music rhythmdj"s - dancers girls-boys - fun sexys martshots mad huge show must - the best Party Every night - Do not miss it!!
The largest of the clubs in Mykonos town (chora)!
SPACE DANCE - MADNESS - MYKONOS X PERIENCE
With capacity of about 1.000, it is one of the biggest clubs of the Greek islands. Dance music every night from DJs Gogo and A.M. Every Wednesday Space Club in collaboration with Space Ibiza on the decks is Vudu and Cherano, while Sundays are dedicate to R&B. Every week you will find there a guest DJ of the international scene. If you are looking for something more lounge, then book a table at the prive.
Mykonos town Lakka Square
Near the post office and the bus station Fabrica
tel.: +30 2289024100
SPACE DANCE - MADNESS - MYKONOS SPACEDANCE - MADNESS - MYKONOS SPACE DANCE - MADNESS - MYKONOSXPERIENCE
This is a free listing for SPACE club - Bar at Mykonos .If you are interesting to change or add more information or pictures for Space bar please contact us with the email form below and we will be glad to assist you.
Mykonos Tour is always in an update progress so people will find all the details that they are looking for. Bar owners are always welcome to add or update their informations at Mykonos Tour Network by filling the form from the contact us section . Form »
MykonosTour Page ID: 277