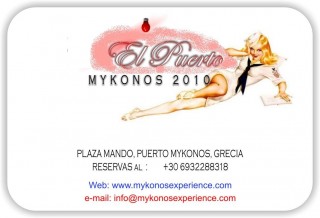 El Puerto - Camares Experience no longer exists
 Visiting Mykonos island means the Experience of  Camares !
It seems the most likely place at Mykonos to find straightforward, serious, from-the-heart cooking. The menu include Mykonian and Mediterranean cuisine, sushi bar, drinks and cocktails of all kind, served in the grand manner, with a passion for detail.
Meals can be enjoyed in the  El Puerto dining room inside, or at the veranda with magnificent Mykonos city-port and sea views.
Come on and experience what many locals and visitors alike are calling their favourite mykonian club restaurant on the island.
With live entertainment mostly every night, what better way to enjoy your holydays with a glass of your favourite drink and cocktail at  El Puerto.
Chill out and relax at the evenings, enjoying the beautiful mykonian sunset or party out and dance all night under the extraordinary rhythm of Mykonos. At Puerto el Pecado, we believe in value and quality.
Mykonos is one of the Cyclades islands, with beautiful sandy beaches, and white washed houses. Mykonos was always a cosmopolitan heaven for the worldwide jet set but moreover it's an island with many amazing scenes and experiences which are waiting to be discovered and explored by everyone who steps foot on the island. One of these experiences is Puerto el Pecado.
MykonosTour Page ID: 704