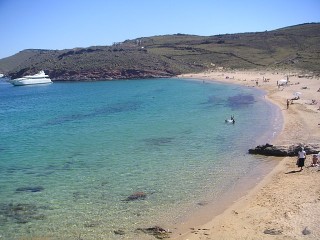 Agios Sostis Beach Mykonos Island Greece.
Agios Sostis Beach . You will find no hotels studios or rooms for rent only apartments for rent , no umbrellas or sun beds, neither a beach bar, but you will meat the most loyal beach crowd on the island. Aghios Sostis used to be a traditional nudist beach in the past.Taking the road beyond Panormos beach and facing east onto the bay, Agios Sostis is one of the more remote beaches on the island. Nowadays it is visited by the low profile rich, chic and famous, and if you are not one of them, you might feel a little uncomfortable Void of accommodation and crowds this beautiful beach offers not only peace and quiet but a very good small restaurant. Access is limited to private vehicle and taxi.
Agios Sostis Beach at Mykonos Island in Greece is a wild and windswept beach that sits at the northern mouth of the bay and again a big favourite with surfers thanks to its exposure to the meltemi winds. Rollers crash in on a superb sand beach especially in July and August when the meltemi winds are at their strongest. In such an exposed spot the relatively long does tend to pick up rather a lot of litter as well.
Agios Sostis Beach Mykonos Island Greece
HOTELS MYKONOS
MykonosTour Page ID: 20