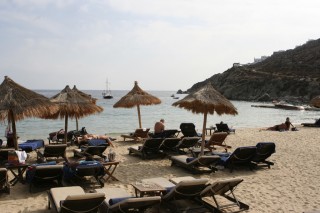 Psarou Beach Mykonos Island Greece
The cosmopolitan one.
Psarou is one of the most popular beaches in Mykonos, only 4,5 kilometers far away from the center. Beautiful, sandy beach where many tourists and celebrities from all over the world come to visit it every year. Very good organized beach with umbrellas, wooden sunbeds and excellent service. Because of its popularity, in high season there is waiting list. When the "Nammos" has a party, champagnes and lots of fireworks light up in the sky. Sports, lifeguard and easy access to the beach.
P.S. The beach is the right place to see and to be seen.
Psarou Beach is one of the most famous beaches of MYKONOS . PSAROY beach is sourrounded by luxury hotels fancy restaurants, tavernas, mini markets. Every year thousands of tourists and celebrities visit this sandy beach.Psarou beach HOTEL and some other hotels are arount this beautiful beach. There are beach umbrellas, wooden  loungers, the best beach service on the island, a waiting list for August week - ends and extremely stringent face control - the result being the most unmixed public anywhere on the island. Due to Psarou"s popularity, specially during August, which is the peak of high season, there is a waiting list for the sunbeds and umbreallas.  Many luxury hotels are also built around Psarou. It is located 4 km from Mykonos town (or Chora) and it is cloze to Platys Gialos. Situated within walking distance and just to the right of the Plati Gialos bus terminus, Psarouis one of the earliest established beaches. This medium size well-sheltered beach offers good accommodation, restaurants and various water sports which include a diving school.
PSAROU is a more select version of it popular neighbour at Platys Yialos. Around 150m of white sand is backed by reeds and other greenery to make a very pretty and intimate spot overlooked by the stepped terraces of tavernas and hotels. Alive with jet skiers and jet setters this is a place to preen the pectorals and get a right toaster of a tan.
Psarou Beach Mykonos Island Greece Psarou Beach Mykonos Island Greece.
Platis Gialos Hotels NEXT to Psarou
MykonosTour Page ID: 35