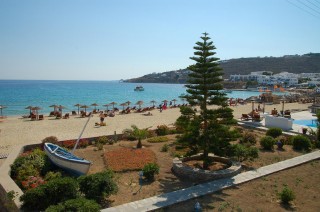 Platys Gialos Beach Mykonos Island Greece
Family environment.
In the south part of the island, 5 kilometers away from the center, is the most bustling beach called "Platys Gialos". One of the biggest sandy beaches in Mykonos, mainly with family climate because of the comfort and the easy access. Excellent organization, with thousands of sunbeds and umbrellas.
P.S. From the beach of Platys Gialos start the boats which make routes to the south beaches of the island.
Mykonos Beaches are beautiful but Platis Yialos Beache is one of the most oldest and most established  with hotels rooms and apartments  of the southern beaches Platis Gialos or Platys Yialos beach, is another family oriented beach offering hotels accommodation,  small family Budget hotels and Luxury Hotels and private rooms studios and apartments for rent are all available for tourists at this Beach. Restaurants, beach bars and water sports, hotels and studios  or apartments are all over the beach of Platis Gialos. As one of the most visited beaches connections by boat can be made throughout the day to the other southern beaches of Paranga, Paradise, Super Paradise, Agrari and Elia. Bus service from Mykonos town is very frequent
PLATYS GIALOS or PLATIS YIALOS used to be a swamp but has now been monopolised by back-to-back hotels lining the long sandy beach. The biggest and longest established resort on the island this is no place to look for a Greek holiday - there is not a trace of Greece to be seen here any more. A long crescent of sand is backed by low hills. Terraced tavernas line the sands which heave with bodies in the high season. The frequent bus services from Mykonos make this the main target of day visitors, swelling the high numbers already staying here. Watersports abound as do the howling jet skis, so pack some earplugs with the sun cream. This is also the main calling point for small boats taking visitors to the other south coast beaches and to the surrounding islands, Delos in particular.
Boats for Delos though leave early, around 8am. If you want to escape the crowds PARAGA is a tiny beach in a nearby bay which has a couple of very good tavernas and not much else.
MykonosTour Page ID: 34