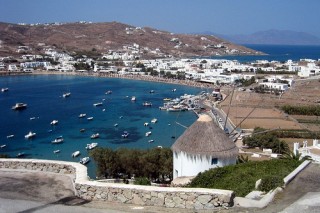 Ornos Beach Mykonos Island Greece mykonos hotels
Relax and enjoyment.
The beach of Ornos is located in the south part, 3,5 kilometers away from the center of Mykonos. Caster sand, blue water, no wind so you will definitely enjoy your swimming. A bustling beach, full of young people, families and tourists. Very good organized with sunbeds, umbrellas, sofas, beanbag, restaurants and beach bars.
P.S. Special places are: Kuzina, Pasaji and the all-time classic Aperanto Galazio.
Ornos Beach is located on the southwest corner of Mykonos island and only tree kilometers from  Mykonos town , this area has recently developed into a self-contained village full of Mykonos cheap or luxury Hotels. Together with an abundance of hotels and places to eat and drink there are also supermarkets, butcher, pharmacy, and bakery. Due, for the most part to the sea"s sandy bottom which drops off very gently from the shore, Ornos beach provides the perfect family beach. Access to and from Mykonos town is made easy with a frequent local bus service. A daily boat service to other Mykonos beaches as well as excursions to the island of Delos are available from this bay which also provides a good anchorage for yachts.
Once a pleasant little fishing port ORNOS is now overwhelmed with tourist development. You will find umbrellas and sun beds at Ornos, but also boats going to Psarou, Elia, Agrari and Super Paradise. If you feel like having coffee of a delicious light meal or even an early dinner or drink, go to the lovely Orno that opened last summer and attracted everyone"s attention. Colonies of expensive hotels cram the beach. The sheltered bay is ideal for families though with a gently sloping beach and lots of watersports on offer. Boats trips to other beaches are also plentiful so many may like to use it as a base for exploring the rest of the island. The ranks of hotels however dont destroy any Mykononian atmosphere but and makes this a charm and character place to spend a whole holidayon the island.
MykonosTour Page ID: 30