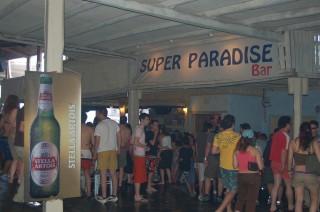 Super Paradise Beach Mykonos Island Greece
The queen.
The popular beach Plintri credits its fame to Super Paradise which inaugurated the meaning of the beach-party since 1971.7 kilometers from the center you have to spend a day of your holidays here! Clear, blue water, gold sand, perfect organization, so, you can find anything you need. In the right side of the beach is allowed nudism and the area is gay-friendly. After 16:00 the music growing louder and the party begins!
P.S. We wait to hear your opinion!!
Super Paradise beachis favorite for the gay tourists  visitors that comes to Mykonos island for many years. At Super Paradise you may find hotels and studios for accommodation at super paradise but mostly some beautiful villas over the hill. Nude tolerant, this beautiful beach of Super Paradise  set in a small but deep bay has restaurants and the Super Paradise  bar disco that echo throughout the day the energy of the towns nightlife. Access to the beach is reached by taxi, private vehicle and a regular boat service from the Platis Gialos beach .
Super paradise.The most beautiful as well as the busiest beach on the island,  It is large, with  sand, a clear blue,  sea that deepens abruptly, great crowds and its own … seating plan: the gays on the right, the fashionable socialites on the left and the tourists in the middle. You will meet rising TV stars here, models, second-grade actors, various second rate socialites, paparazzi, lots of youngsters and, naturally, many nudists. Its umbrellas provide refuge to some of the hottest affairs of the year each summer that fill the colour pages of the yellow press in abundance. 
The Super Paradise bar - restaurant is the most impressive of its kind in the whole of Mykonos. Huge, built on various levels, with a pool, large bars and a self service Greek cuisine, it is ideal for a relaxing perusal of the beach from a distance. After 5 pm, DJ Panos rouses up the crowds with the latest hits and the usual outcome is yet another party.  SUPER PARADISE , known locally as PLINDRI. Once exclusively gay and notorious for cruising it has lost much of its louche reputation. The textiles have now moved back in force and there are now gayer and nuder beaches to be found on the island. It still boasts a magnificent beach with crystal clear blue water. The water is deep here though so it is not so popular with families.
Super keywords . :Super Paradise Super Paradise Beach. Mykonos Island Greece Super Paradise Beach. Mykonos Island. Greece Super Paradise, Beach Mykonos, Island Greece Super Paradise .. Beach Mykonos Island Greece Super Paradise , Beach Mykonos Island Greece Super Paradise Beach, Mykonos map Island Greece.
Find all the hotels at Mykonos ..click now
MykonosTour Page ID: 36